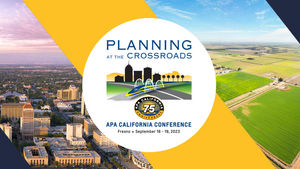 Visit our table at the APA California 2023 conference in Fresno
---
For anyone seeking an understanding of the complexities of state and federal wetlands and endangered species permitting in California.
---
We hope to see many of you in Santa Barbara at the Annual CCAPA Conference. Come by our table (Table M, Vineyard Terrace) where you can browse all of our Solano Press titles.
Use your conference discount ...
---
California Water, 3rd edition

is a thoroughly updated edition of this concise guide to historical, legal and policy issues affecting water use in California.
---
Update your copy of 
California Land Use and Planning Law, 36th edition.
Click
here
to download your free copy of the 2019 Supplement.
This Supplement containing analyses of the most important decisions published in 2018 concerning California land use and planning.