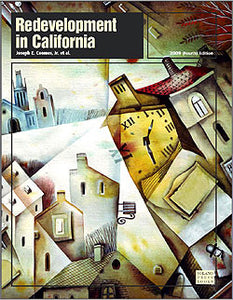 Joseph E. Coomes, Jr., Iris Yang, T. Brent Hawkins, Gerald Ramiza, and Ethan Walsh
Redevelopment in California, 4th edition
Item# R29
ISBN: 978-0-923956-82-0
Copyright (c) 2009
Paperback
Price: $90.00
DESCRIPTION
Redevelopment in California is the definitive guide to both the law and the practice of redevelopment, providing a comprehensive and clearly written reference and practitioner's handbook for policymakers, redevelopment officials, developers, investors, attorneys, citizens, and students. It is a basic introduction for anyone who wants to understand the process.
This updated fourth edition contains the entire text of the law, including the most recent legislation adopted through January 1, 2009, including SB 1206 and AB 1389, as well as discussion of recent redevelopment and other relevant cases. This new edition also contains updated chapters on plan adoptions and amendments, toxics, military base reuse, tax increment financing, affordable housing, and plan implementation.
---
IMPORTANT ERRATA NOTICE
ERRATA TO ITEM NO. 22 IN APPENDIX B:
Effective January 1, 2009, Item No. 22 should read as follows:
After Month 4, Day 17 — No later than 90 days prior to the public hearing.
22. AGENCY transmits a copy of the Preliminary Report to the governing board of each affected taxing agency. §33344.6
Action or document required:
Preliminary Report
Transmittal Letter
---
CHAPTERS AT A GLANCE
Introduction
Redevelopment of Agencies
Adoption of Redevelopment Plan
Conflicts of Interest
Property Acquisition
Environmental Issues
Relocation
Property Disposition
Public Improvements
Financing
Housing
Closed Military Bases
Validation Litigation
Conclusion
---
ABOUT THE BOOK
Specific legislative changes addressed include:
New reporting requirements regarding pass-through payments
Additional restrictions for blight determinations
Updated discussion regarding the payment of prevailing wages
Special notice requirements regarding agency eminent domain program
New procedural requirements for plan adoptions and amendments
Creation and maintenance of affordable housing database
In addition, the books covers:
Preparation and adoption of plans and plan amendments
Project area requirements
Agency administrative requirements
Property acquisition and disposition
Eminent domain requirements and procedures
Redevelopment agency borrowing authority
Environmental issues
Affordable housing
Relocation requirements
Closed military bases
Validation Litigation
---
ABOUT THE AUTHORS
Joseph E. Coomes, Jr. helped establish the redevelopment practice at McDonough Holland & Allen PC some 40 years ago. Joe's practice is concentrated in the area of redevelopment, land use, and planning law, including military base closure and reuse. Joe, in particular, also represents a number of public agencies, major developers in complex land use matters, and in the negotiation of development agreements. He has successfully negotiated some of the largest and most difficult urban mixed-use redevelopment projects in California, including San Francisco's Yerba Buena Gardens, and downtown San Jose's Silicon Valley Financial Center, as well as closed military base reuse projects at Hamilton Field in Novato, Mare Island in Vallejo, the Dunes Project at Fort Ord in the City of Marina, and the East Garrison Project at Ford Ord in the County of Monterey. In 2008, he received a Lifetime Achievement Award from the California Redevelopment Association.
Iris P. Yang practices redevelopment, public law and land use (both transactional and litigation). On the transactional side, Iris has helped numerous public agencies adopt and amend redevelopment plans, negotiate development agreements for affordable housing projects, shopping centers, mixed-use projects, and performing arts centers. In addition, she has represented clients on a variety of litigation matters, including land use and CEQA issues, First Amendment challenges, validation actions, and conflicts of interest. She serves as the City Attorney of El Paso de Robles and special counsel to a number of public agencies and private clients on a variety of issues including conflicts of interest, lobbying, economic disclosure, and campaign finance, and has represented both public and private clients before the state Fair Political Practices Commission. She has authored the California chapter of Lobbying, PACs and Campaign Finance—50 State Handbook each year since 1994.
T. Brent Hawkins practices land use, redevelopment, housing, and environmental law (both transactional and litigation). Brent represents clients throughout California and in other western states, including Nevada and Idaho. His practice emphasizes the adoption and amendment of redevelopment plans, negotiation of development transactions, development agreements, asset management, and preparation and lobbying of redevelopment legislation. Brent's litigation experience includes practice before state and federal courts relative to the Community Redevelopment Law, California Environmental Quality Act, and California Relocation Assistance Act as well as eminent domain law and planning and zoning law. Brent lectures frequently organizations such as the California Redevelopment Association, League of California Cities, and the University of California. He is the chairman of the Legal Committee of the California Redevelopment Association.
Gerald J. Ramiza is a member of the firm's Oakland office, where his practice emphasizes transactional redevelopment matters, public agency law, and real estate law. Jerry's experience includes drafting and negotiation of leases, purchase and sale, owner participation, and disposition and development agreements. He represents developers on redevelopment agency-assisted projects and advises property owners and developers on leasing, acquisition, and land use entitlement processes. He is the lead attorney for the Emeryville, Pleasant Hill, Concord, San Bruno, Vallejo, and Foster City Redevelopment Agencies and the Alameda Community Improvement Commission, and provides special counsel services to the cities of Pacifica, Truckee, Clearlake, and Los Altos in connection with real estate and land use matters and the cities of Berkeley, Pleasant Hill, San Bruno, and Emeryville on affordable housing matters.
Ethan Walsh practices in the areas of redevelopment, affordable housing, and land use law. Ethan's practice includes assisting redevelopment agencies and developers in structuring transactions for commercial, residential, and mixed- use projects; negotiating and drafting disposition and development agreements and owner participation agreements for commercial, residential, and mixed-use projects; advising redevelopment agencies on the adoption and amendment of redevelopment plans; and providing day-to-day advice on redevelopment law issues. Additionally, Ethan has substantial experience in advising public agencies and private developers on the potential impacts of prevailing wage laws as they relate to public-private transactions.
---
ADDITIONAL INFORMATION
---
More from this collection