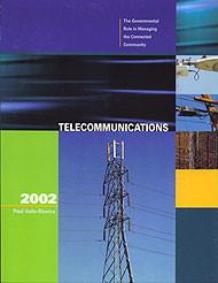 Paul Valle-Riestra
Telecommunications
Full title: Telecommunications: The Governmental Role in Managing the Connected Community
Item# TE
ISBN: 978-0-923956-72-1
Copyright (c) 2002
Paperback
Price: $50.00
DESCRIPTION
A detailed summary and analysis of federal and state laws governing the location and regulation of physical facilities including cable, traditional telephone systems, wireless systems (cellular, paging, and Internet), satellite dishes, and antennas. With practice tips, photographs, a glossary, table of authorities, and an index.
---
CHAPTERS AT A GLANCE
Overview of the Telecommunications Industry and Local Regulation
Telephony and Other Common Carrier Telecommunications Services
The Internet
Cable Systems
Open Video Systems
Wireless Services and Antennas
---
ABOUT THE BOOK
This book explains the dynamic field of telecommunications in clear language useful to planners, attorneys, local legislators, cable franchise administrators, and telecommunications company personnel. It includes a detailed summary and analysis of federal and state laws governing the location and regulation of physical facilities including cable, traditional telephone systems, wireless systems (cellular, paging, and Internet), satellite dishes, and antennas. With practice tips, a glossary, photographs, a table of authorities, and an index. The first book to explain the field of telecommunications regulation in easy-to-understand, straightforward language. An ideal resource for local government staff, attorneys, planners, engineers, cable franchise administrators, and telecommunications company personnel.
Highlights include:
An in-depth guide on how to establish the appropriate role for local government in managing and regulating telecommunications services and facilities
Applicable statutory and case law governing telecommunications
The public policy issues associated with regulating telecommunications
Current technologies, the telecommunications industry, and the future of telecommunications regulations
Environmental and design standards
This book will help you:
Understand the relationship between cable, open video, telephony, wireless, and other services
Identify siting issues and uses of rights-of-way to manage antenna and equipment location
Prepare legally-adequate ordinances and agreements
Negotiate initial franchises, renewals, and transfers
Identify revenue prospects from services and transactions
Identify health, safety, and aesthetic concerns
---
ABOUT THE AUTHOR
Paul Valle-Riestra was a Senior Assistant City Attorney for the City of Walnut Creek, California, and a member of the Board of Directors of the States of California and Nevada Chapter of the National Association of Telecommunications Officers and Advisors (NATOA) and a member of the NATOA Legal Committee.
Mr. Valle-Riestra previously was Staff Attorney for the League of California Cities, was in private practice, and served as an Extern for the Media Access Project in Washington, D.C. He graduated from the University of California, Davis and Boalt Hall School of Law at U.C. Berkeley. He died in 2011.
---
INTRODUCTION
"Revolution" is an overused term. Yet we are truly in the midst of the Telecommunications Revolution, a revolution as profound as the agricultural revolution, the industrial revolution, and the computer revolution. The Telecommunications Revolution is changing the way we work, shop, plan, learn, and relate to each other. Telecommunications services that were unheard of a decade ago are now commonplace. Cell phones, pagers, personal communications service devices, wireless internet, digital cable, high-density television, .com companies, satellite dishes, websites, and e-mail have quickly become a part of everyday life.
While it often seems that telecommunications occurs like magic, in reality telecommunications relies on physical infrastructure: wires, antennas, poles, and equipment. Whether these facilities are located within streets or on private property, local governments are called upon to both facilitate deployment and protect against their health, safety, and aesthetic impacts. And if these tasks were not complicated enough, local governments are required to regulate these facilities within the context of complex, often obscure state and federal regulations. This challenge is magnified by the fact that few local governments have telecommunications departments, leaving the regulatory tasks in many cases to staff who have little technical background or familiarity with relevant state and federal regulations. At the same time, many in the telecommunications industry and in state and federal government have little understanding of local government procedures or sensitivity to local concerns.
This book is intended as a resource for local government staff, including attorneys, planners, engineers, and cable franchise administrators, who deal with these complex issues. It is also intended for telecommunication company personnel who work with local governments, and for state and federal government staff who administer regulations implicating local governments.
Regulating Cable. A primary focus of this book is cable regulation. Local government has long played the central role in regulating cable television, both its physical infrastructure as well as cable services. Cable operators are required to obtain a franchise from local agencies who typically regulate the construction of systems, the carriage of community access programming, rates of basic service, and other customer service matters. On several occasions over the past two decades, Congress has enacted new legislation that each time has dramatically changed the scope of local authority over cable; and the Federal Communications Commission (FCC) has issued countless rulings to implement these changes.
Typically the FCC issues orders that adopt regulations, but often one must read both the orders and the regulations to understand the full impact on local government authority. Yet often these orders are issued without the knowledge of most local government agencies and are printed, if at all, in publications that generally are not readily available to local staff. Making matters worse, the courts have issued numerous decisions interpreting federal and state law, often in unclear or conflicting ways. This book explains how cable systems work and how they are regulated at the federal, state, and local levels. It also explains how a new type of cable-like service, "open video," is regulated.
Regulating Telephone Companies. On the other hand, local governments have historically played a much more limited role in regulating telephone companies. Federal and state governments have had exclusive authority to regulate telephone services. Under California law, telephone companies have had a statewide franchise to locate facilities within public streets. As a result, local governments have traditionally only been able to regulate the time, place, and manner in which telephone companies used public streets. This required little effort, since typically only one telephone company served each community. However, deregulation of the telephone industry has spawned dozens of new telephone companies trying to install facilities as quickly as possible. As a result, in many communities numerous telephone companies are constantly digging in the streets and installing new above-ground equipment pedestals, raising new issues about managing construction, mitigating damage to street pavement, and regulating aesthetic impacts of pedestals. Moreover, since telephone companies have begun to provide a variety of new services beyond voice communication (such as Internet access, fiber optic data lines, and data processing services) communities are struggling to determine which companies and services are subject to local regulation under federal and state law and whether they can be required to pay compensation for use of public property. Resolving these issues involves navigating a morass of federal and state laws, and this book is intended to provide guidance.
Regulating Wireless. While cable and traditional telephone systems largely use public streets for their facilities, wireless telecommunications systems frequently use private property to install antennas for transmitting and receiving signals. The explosion of cellular telephones has led to the need for countless cellular antennas. Paging and wireless internet services require similar antennas, and many businesses are placing satellite dishes on their roofs to transmit and receive data from their corporate headquarters. Increasingly popular satellite television services require subscribers to install reception dishes, while amateur radio operators want to install huge antenna arrays to communicate around the world. As these antennas proliferate, so do community concerns about health, safety, and aesthetic impacts. Each of these antennas has its own maze of federal and state regulations limiting local authority. Yet most local staff have little knowledge of these regulations or even how to go about finding them. This book is intended to overcome this problem.
The Challenge. The challenge for both the regulator and the regulated is becoming greater as new technologies emerge that don¹t fit squarely into established categories. Traditionally, telecommunications services divided into two types (telephone and cable television) and local government had different, but relatively clear authority to regulate each under federal and state law. However, as new technologies develop, overlap, and even merge, determining the regulatory category that applies to a particular service or facility is problematic. For example, it is unclear the extent to which local governments can regulate cable modem service (Internet access provided over a cable line), because it is unclear whether it is a cable service, a telecommunications service, or something else. This book will help the reader understand these developing issues.
This book is not intended to be read from cover to cover, but is instead a resource to gain background when a particular issue arises. While its primary focus is legal, the book is addressing both lawyers and non-lawyers. It contains brief summaries of many court decisions, but the reader should refer to the decisions themselves for a complete understanding of the case. On occasion, discussion of a case will include an extensive quote when a case is particularly significant and when a mere summary would not do justice to the language used.
While California law is often discussed, the primary emphasis is federal law, making this book a useful resource for practitioners in other states. Nevertheless, readers outside California should also become familiar with the laws of their own state that may relate to issues raised in this book. Because telecommunications law is very complicated and constantly changing, government and industry staff face a formidable challenge doing their jobs in a manner consistent with the law. It is our hope that this book will help in that task.
---
ADDITIONAL INFORMATION
---
More from this collection